Our Founder and CEO, Radha Basu, recently participated in the inaugural episode of the new TriNet original series "Leading with Passion" hosted by Pamela Rucker, a Professor at Harvard University. Radha, known for her visionary leadership and unwavering commitment to empowering communities, shared her inspiring story, from the early days of college to building iMerit and its present-day global prominence in the episode.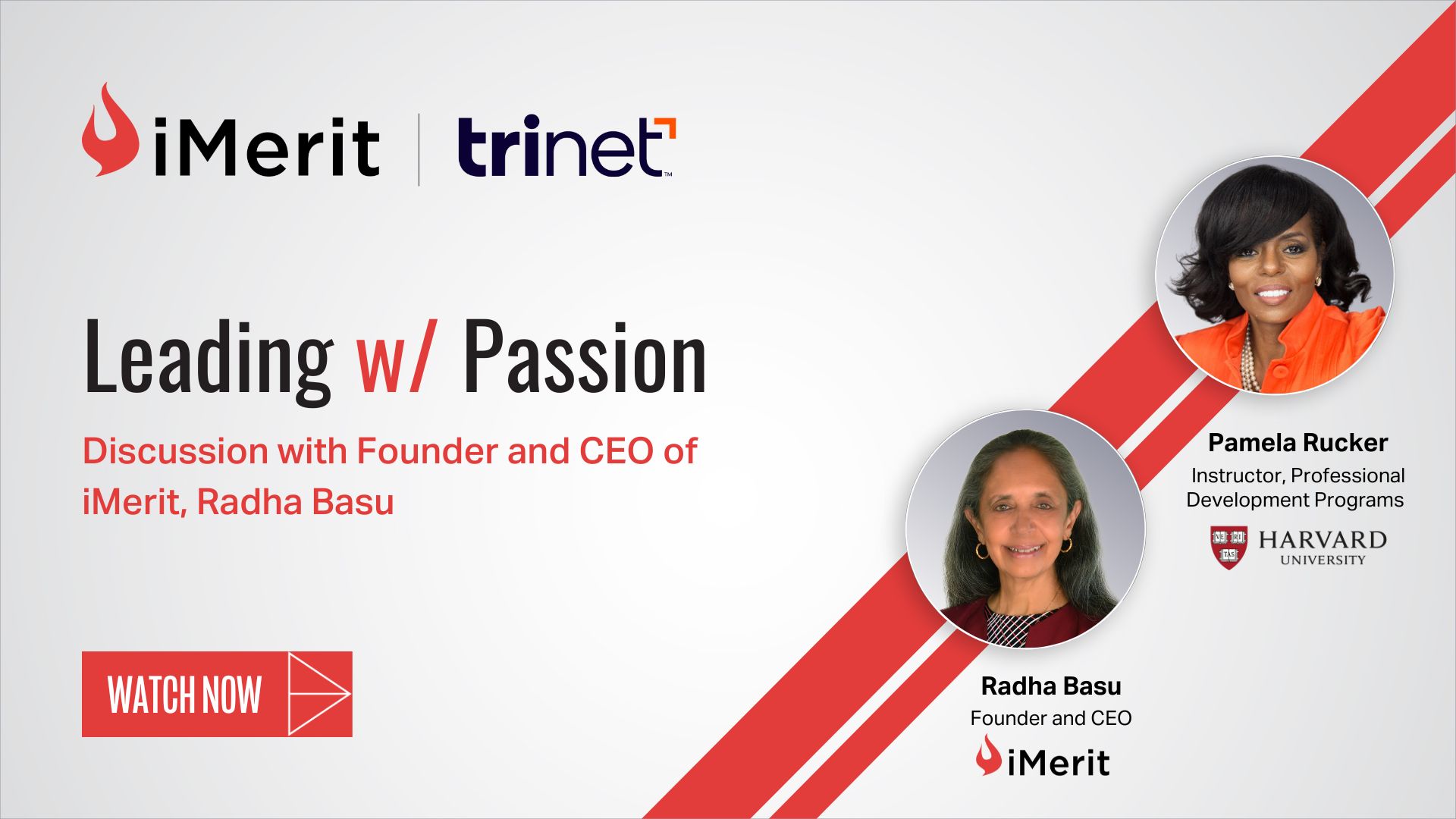 Early Days Battling Gender Gap
The session touched on the challenges Radha encountered on her journey, how she drew inspiration along the way, and why humans will continue to be significant in the entire AI lifecycle. "Nobody at home knew that I applied for engineering. The way they found out is that my name and photo came in the newspaper," said Radha Basu, Founder & CEO of iMerit. 
Radha transitioned from an all-girls Catholic school to an almost all-boys institution, where she was one of only 17 girls and 2,780 boys. Despite the initial culture shock, Radha adapted quickly and gradually became oblivious to the prevailing gender gap wherever she went. "When mentoring, I encourage the girls to feel comfortable and confident being in a room full of men, half of men, or full of women," she said.
After completing college, Radha aspired to join the University of Southern California to study medical engineering. However, her father had different plans, urging her to consider an arranged marriage before moving to the U.S. Taking matters into her own hands, she independently verified her passport and sustained herself with the income from her assistantship. 
Pamela rightly says in the episode, "I think a lot of times, we forget that the hardships we go through today are designing capabilities in us that we are going to need to leverage later on."
Setting up iMerit for Cutting-edge AI Data Solutions
Radha spent 20 years working at the old HP, learning technology and business. Despite initial doubts, she ventured into ultra-imaging technology sales, gaining valuable insights into the product and business dynamics. After becoming the best sales region in the United States, HP gave Radha the opportunity to go global. 
In 1985, she founded the business operations for HP in India and set up the first software center of any multinational in Bangalore. She then became General Manager of Hewlett Packard Electronic Business Software Division, growing to a $1.2 billion global business. After her tenure at HP, she embarked on an entrepreneurial journey, establishing a software company and taking it public on Nasdaq.
In 2007, Dipak Basu, husband of Radha Basu, founded Anudip Foundation, an NGO dedicated to empowering young individuals to leapfrog in digital technologies. Over the years, the organization has successfully trained more than 450,000 young people. Radha selected 70 of them, particularly women who faced challenges accessing job opportunities, and provided them with specialized AI training. That is how iMerit Technologies came into existence.
As the episode progressed, Radha shared insights into initiatives by iMerit to promote equitable education and skill development. She answered how a tech company like iMerit has more than 50% women and underscored the profound impact education can have in breaking the cycle of poverty and creating a more inclusive society.
Pamela also stressed the significance of educating individuals about AI technology and its possibilities. She assured that there is no need to worry about the impact of AI. Drawing from her experience working with various AI verticals at iMerit, Radha explained that human involvement will be crucial at every step of the AI lifecycle.
When it comes to generating high-quality AI training data, employing a reputable data annotation company is a good first step. As a leader in iMerit provides a solution that brings together technology, talent, and techniques to provide high-quality data and precision at the scale of production required.
Conclusion 
As Radha Basu and iMerit continue to champion the 3 Ts – Technology, Talent, and Technique – these pillars remain at the core of our mission, propelling us to drive positive change, foster inclusive growth, and advance the future of AI.
To find out how iMerit can help your enterprise, contact us today.