Imagine a mega gathering of hundreds of delegates, organizations, and students connecting, listening, and interacting with keynote panels of great achievers of the technology landscape in India. Sounds exciting, inspiring, and power-packed at the same time? 
An Evening with Legends- a session as a part of Development Dialogue Hubballi 2023, was presided by our founder and CEO, Radha Basu. Alongside her was esteemed N. R. Narayana Murthy, Co-founder of Infosys, Paul Mazerolle, President & Vice-Chancellor of the University of New Brunswick, and Roopa Gandhi, Founder & President of GEP Worldwide. Desh Deshpande, Co-Founder of the Deshpande Foundation, moderated an open-ended discussion in which Sandbox ecosystem participants listened to and interacted with the panelists.
Development Dialogue Hubballi, a two-day event that began on February 3, 2023, with field visits and a Keynote session on Technology for Impact & Scale, had rural transformation using technology at the center of the discussion. A vision for our future must include key capabilities to extend faster and cheaper services to the rural parts of the country, and technology can help us achieve this.
Paul Mazerolle, the President and Vice-Chancellor of the University of New Brunswick, reflected on the changes he has observed over the past 20 years. Mazerolle brimmed with joy when he spoke about how people with huge aspirations and technological advancements have made the world a small place by bringing people closer together and creating opportunities for innovation and economic growth.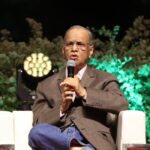 When asked about the future of India in the next 50 years, Narayan Murthy, Co-founder of Infosys, stated, "The next 50 years will bring even better prosperity and lesser differences between the urban people and rural people." He also emphasized how India can become the most digitized nation and conquer diseases such as cancer and kidney failure. He would like to see India with more respect from the Committee of Nations.
"The power to learn is within them," said Radha Basu, Founder, and CEO of iMerit, when asked to advise the youngsters for the future. She encouraged the young audience to take an active role in their learning by committing to learning something new daily. By doing so, they can remain informed and be ready for a world where technology is constantly evolving.
Roopa Gandhi, Founder and President of GEP Worldwide, spoke about the work of the Deshpande Skilling Center and its potential to create a more equitable nation. "There is an opportunity for every person, no matter what background they come from and what language they speak," she concluded.

An Evening with Legends is a truly mesmerizing experience as well as a great reflection of the difference technology has made in our lives and what it can do for our future. India is in a unique position with many technological advancements and many more underway, yet so much remains undone for the social and rural sectors.
To watch the entire session, click here.
To learn more about iMerit's data annotation services, contact us today to talk to an expert.