At the 14th Development Dialogue, organized by Deshpande Foundation, our founder and CEO, Radha Basu, participated in a keynote session titled "Technology for Impact & Scale" with N.R. Narayana Murthy, the co-founder of Infosys, and Srikanth Nadhamuni, the founder of Aadhaar and CEO of Khosla Labs. The session focused on a future vision where technology will enable rural transformation with faster, cheaper, and improved services for rural India. The moderator of the session was Shubo Biswas, the Global CTO of the Deshpande Foundation.
Key Technology Areas for Rural Development
Infosys Founder Narayana Murthy pointed out that science and technology have two purposes- one is to understand the mysteries of nature, and the other is to use the principles of science to make life better for people by reducing costs, enhancing productivity, adding more comfort, etc.
Technology has tremendous potential to ease lives, especially for people at the bottom of the pyramid. "Every technology has the power to ameliorate the lives of the rural poor, but of all those, the most important need of a human being is food, education, and health," Narayana Murthy says.
"The technology that would excite me most at this point so far as rural transformation is concerned is the IoT (Internet of Things). Connecting computing power to mechanical, electrical, chemical, civil, engineering appliances so that the quality of life can be improved significantly."

– N.R. Narayana Murthy, Founder of Infosys
Our founder and CEO, Radha Basu, emphasized the need to involve young people, particularly women, in the technology industry and upskill them to build products and companies at scale. She highlighted the importance of inclusivity in the tech workforce and shared iMerit's interest in the fusion of computer vision and human intelligence to power AI and machine learning. She spoke about how technology can bring new levels of precision to areas such as agriculture, medical AI, and drone deliveries which are crucial areas for rural development. By advancing AI through robust data annotation, tools, and a highly trained workforce, iMerit is making a meaningful difference in these industries.
Inventing Technology that Transforms Culture
"The most significant ingredient required for the development of a nation is culture – the culture of honesty, hard work, discipline, and open-mindedness to learn from people who are better than us," said Infosys founder NR Narayana Murthy. Reshaping our culture is very difficult, and he opined that we must invent technology to help our people do this.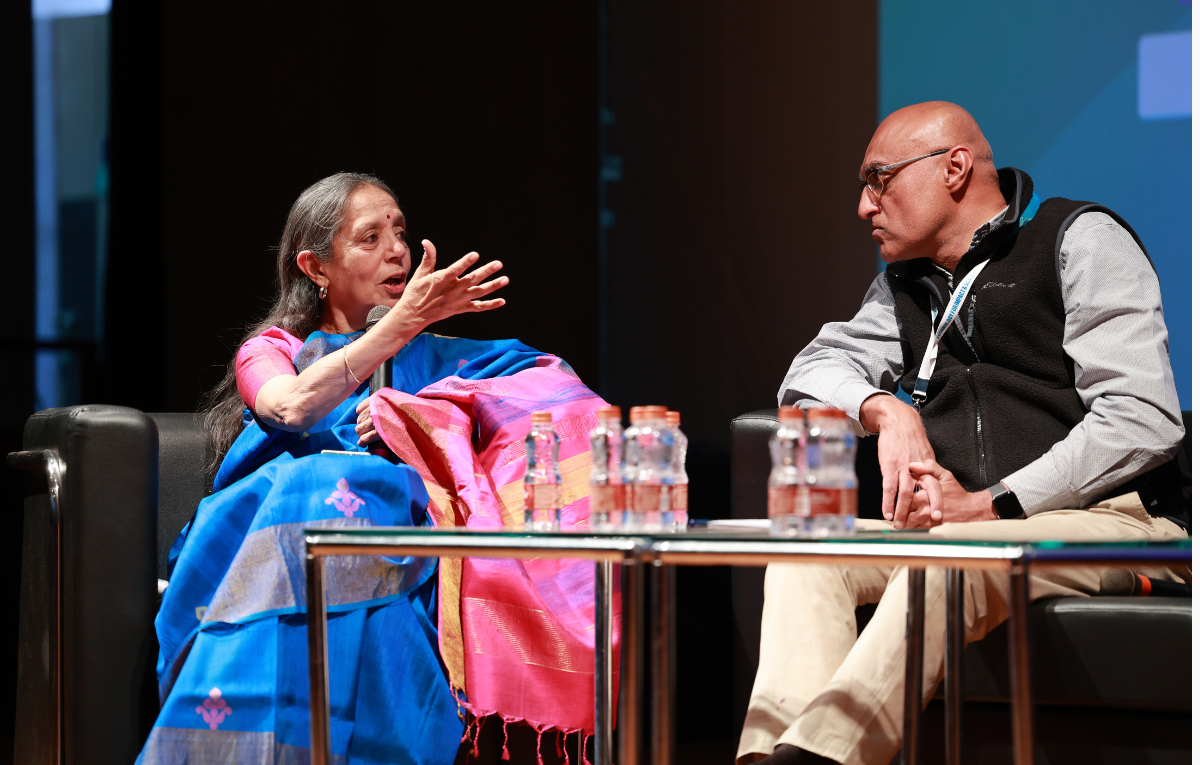 Radha concurred with this sentiment, expressing her belief in the power of youth and technology to shape and enhance cultural values. She believes technology and its inherent transparency can drive positive change by creating accountability and promoting ethical behavior.
"I am a big believer in the power of youth, and the use of technology with that cultural mindset is one thing that will proliferate and permeate into various levels and create tension for people creating not-so-ethical areas. Technology gives you that transparency."

– Radha Basu, Founder and CEO, iMerit
Vision for an Inclusive Tech-Driven Future
Radha pointed out that rural people can juggle things in adversity and have more resilience than people born in cities because they are used to a certain level of comfort. "With the right kind of skilling, opportunities, and technology, you can build large companies that are maybe 70-80% young people from rural, minority, and different kinds of marginalized areas", she said.
Srikanth Nadhamuni, the Founder and CTO of Aadhaar, expressed his hope that in the coming decade, the kind of change that technological advancements like Aadhaar and UPI brought to areas such as identity, payments, and financial inclusion will extend to crucial sectors like education and healthcare.
To learn more about iMerit's data annotation services, contact us today to talk to an expert.