Digital data services company iMerit announced downtown New Orleans as the location for its first U.S. delivery center. In this location, employees are supporting innovative companies with needs in Spanish and English Natural Language Processing, Computer Vision, and US-based customer service needs. The founding New Orleans team is fully bilingual Spanish-English and skilled in a variety of data services that help train machine learning algorithms. iMerit eventually plans to create over 100 jobs in this center. This represents a significant investment in digital careers of the future in the Greater New Orleans region.
"New technologies like Natural Language Understanding and Computer Vision, rely heavily on humans to create the nuanced data that fuels the algorithms. We operate where people are eager to develop digital skills and to transform their lives and those of their families. New Orleans has huge potential as a multilingual and multicultural hub with strong local backing for business." iMerit founder and CEO Radha Basu said.
Global Vice President of iMerit Sales, Jeff Mills, added "We are seeing a surge in demand for US based resources in Defense, Insurance, Health Care, Government and Technology. Simply put, our customer's data is their advantage. They have always been thrilled with our ability to provide custom skilled teams that bring their data to life, and now customers are excited to be creating jobs here in the US."
Built on the philosophy that the right training and opportunity can turn anyone into a technology professional, the company seeks to provide opportunities for populations with barriers to employment in order to ensure meaningful careers in the digital economy. These jobs will be focused on accessible data jobs that will provide opportunities for employment to underserved members of the community. iMerit also plans to expand its existing US staff of solutions architects and sales and marketing executives.
"The decision for iMerit to select New Orleans for a key part of their operations is significant on many levels," said Michael Hecht, President and CEO of Greater New Orleans, Inc. "First, the natural language processing work being done by iMerit is cutting-edge, and will have a significant impact on lives around the globe for decades to come. Further, this represents yet another high tech company investing in Greater New Orleans. Finally, iMerit will not only be creating local jobs, but will do this via employing an underserved portion of our citizenry – another example of 'inclusive innovation.'"
Alongside Louisiana Economic Development (LED) and the New Orleans Business Alliance, Greater New Orleans, Inc. first engaged with iMerit in late 2017 to share details of the market's business case, including details about the low cost of doing business in the city, the incredible level of collaboration between education and industry, and the unparalleled level of culture that helps in the recruitment and retention of employees.
LED connected iMerit with LED FastStart's Louisiana Job Connection, whose innovative matching system the company utilized to identify potential employees whose skills and experiences matched available roles within iMerit. GNO, Inc. also assisted with finding office space for iMerit operations as a test of the market. To date, iMerit has hired and skilled 15 employees in New Orleans and is continuing to scale as demand grows for US-based data and customer services. iMerit has secured a long term space in downtown New Orleans, where they will ramp up to full operational staffing.
"In New Orleans and all across the state, Louisiana is proving to be a fertile location for continued growth of the digital media and software development fields," said Gov. John Bel Edwards. "In our interconnected world, companies like iMerit are leading the way in ensuring our devices and the services we enjoy can seamlessly hurdle language barriers. We congratulate iMerit on this new investment in New Orleans, and we look forward to their continued success in our state."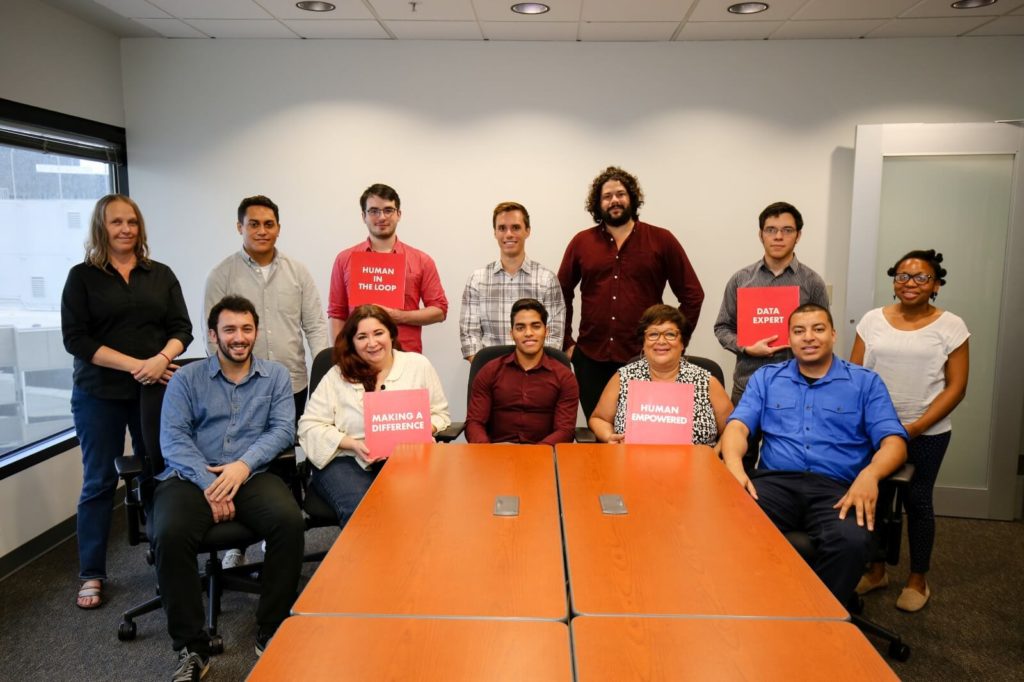 Backed by the Michael and Susan Dell Foundation, Omidyar Network, and Khosla Impact, iMerit was founded as a unique for-profit social enterprise to help build the digital livelihoods of the future while effecting positive social and economic change. iMerit's global client list includes top online retailers, computer vision startups and innovators in financial services and healthcare. Application areas for the data work done by iMerit include autonomous vehicles, medical research, natural language recognition, e-commerce and financial inclusion. The work done in the delivery centers is supported by US-based sales and marketing executives as well as solution architects. Today, the company employs over 1,300 people globally with over 50% being women and over 80% coming from low income families.
New Orleans Mayor Mitch Landrieu said, "New Orleans is our nation's most immediate laboratory for innovation and change. And our strategic plan to drive economic growth is seeing major results. The announcement that a global tech firm like iMerit is opening its first U.S. delivery center in our city, bringing with it 100 new jobs, is proof positive that the world is taking notice of our progress and renewed business energy. Our future is bright as we continue to attract major investments in the knowledge based economy. As we celebrate our city's Tricentennial, we have much to be thankful for and much to look forward to as we continue to build a city for the ages."
About iMerit
iMerit is a technology services company, delivering data and digital services for some of the most innovative companies in machine learning, e-Commerce, financial services and computer vision. It does so while effecting positive social and economic change by training and empowering marginalized men and women. Our workforce of over 1300 people powers transformative technologies such as helping driverless cars understand their environment, advancing cancer cell research, improving crop-yield through the analysis of geo-spatial data and delivering on-demand financial information.
More information can be found at imerit.net.
About Greater New Orleans, Inc.
GNO, Inc. is the regional economic development organization for Southeast Louisiana. The GNO, Inc. mission is to create jobs and wealth in the Greater New Orleans community. The GNO, Inc. Vision is for the Greater New Orleans region to fulfill its potential as one of the best places in the country to grow a company, and raise a family.
More information can be found at www.gnoinc.org.