Each year, thousands of tech-lovers gather to see and experience emerging tech trends at the Consumer Electronics Show, the global stage for innovation. This year #CES2018 was no different. Artificial Intelligence was the overarching theme, touching almost every area of consumer tech.
While emerging tech tends to be coupled with extensive job loss or replacement, overseas and right here at home, emerging tech is creating a future for women and millennial youth in the digital economy.
Forbes contributor, Daniel Newman, reported the top 18 trends to emerge from this year's show. The list included Smart Home Devices, Augmented Reality, Companion Robots, Smarter Cars, Facial Recognition, Virtual Reality, Boosted Analysis in Sports Tech, and more.
Throughout 2017, we saw a deluge of articles headlining the massive loss of jobs due to innovations in Artificial Intelligence. A recent study by tech analyst firm Gartner concluded that by 2020, AI will automate 1.8 million jobs, leaving massive amounts of people looking for new work. However, the same report said that 2.3 million jobs will be created by AI innovation resulting in a net gain of 500,000 jobs.
iMerit's employees are living examples of this gain. Since first opening the doors over five years ago, iMerit has grown from a small twenty-person team mainly based in India, to now employing a cross-border team of over 1,200 team members working on some of the world's most innovative tech.
iMerit provides the 'humans' in human-in-the-loop for data and image labeling for machine learning technology. While there are alternatives to human labeled data, like machine labeled or synthetic data, human-labeled remains the most accurate and reliable source of training data to ensure accuracy and quality outputs.
Human Empowered Computing
iMerit produces highly-quality training datasets at over 95% accuracy while working within time and budget parameters. While there are many options available today in crowdsourcing to have your data labeled, iMerit has a unique offering with a scalable in-house team that works in monitored facilities to ensure your data is secure. Further advantages to an in-house team include:
A dedicated team of people working on your project
Team leads and project managers on the floor to answer any questions and ensure quality standards are met
Our team acts as an extension of your own team.
You are included in the feedback loop. Our team is an extension of your workforce.
Our team of skilled Data Experts, located in six different offices, five in India and our latest office in New Orleans, work on various projects to power innovative technology solutions. Human judgment tasks can include anything from labeling images and video for computer vision to linguistic analysis for natural language processing. These tasks include bounding box annotation, semantic segmentation, polygon annotation, keypoint annotation, data enrichment and categorization or NLP tasks, like sentiment analysis.
Examples of Human Empowered Computing
Boosted Analysis in Sports Tech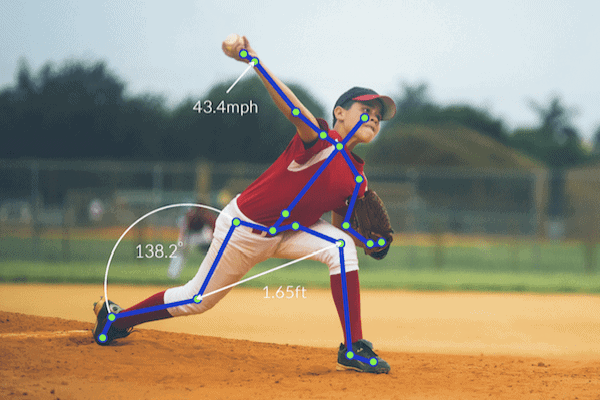 KinaTrax, a Markerless Motion Capture System designed to analyze and improve baseball pitcher performance, takes a variety of imaging devices that are mounted throughout the baseball stadium to capture the detailed movement of pitchers. They develop 3D kinematic models that are used by MLB teams to monitor pitchers' performance and to prevent injury.
Computer Vision and Machine Learning algorithms are used to capture the biomechanics of a pitcher at over 300 frames per second. The video is recovered in 3D and reconstructed frame by frame, producing an image for every movement within the pitch sequence which are then annotated at 20 joint centers. KinaTrax leverages iMerit's team of computer vision Data Experts to provide on-demand and scalable annotation resources from end-to-end through KinaTrax's data analysis workflow.
To create the 3D models, "iMerit teams process in-game footage and prepare it for analysis. We then annotate images and videos to create 3D models of the players. iMerit integrates directly with KinaTrax systems, facilitating a seamless handoff of data. In the past year, iMerit has built a precise 3D model for approximately 300 pitchers across all 30 MLB teams, covering most pitching personnel," said Jai Natarajan, VP of Technology at iMerit.
Learn more about this case study here.
Training Vehicles to 'See'
A renowned global automobile manufacturer and a major contender in the autonomous vehicles segment came to iMerit to help build massive volumes of training data for their machine learning technology. Overwhelmed by the amount of labeled data required, they approached iMerit's team of Data Experts to segment each image with the utmost precision, pixel by pixel, into meaningful classes of objects.
Our Solution Architects work with the product team to define quality definitions and determine classes of objects to be labeled. Leveraging semantic segmentation, our skilled team labeled over 100,000 images pixel by pixel into the predetermined classes of objects. Delivering a training dataset on time and within the budget that was over 95% accurate, our customers leveraged the dataset to train their technology not just to "see" but to understand and interpret its environment.
Social Impact: Innovation Making a Difference
All over the world, youth unemployment rates are hitting record highs. Access to relevant, market-aligned training and employment is limited. While many hardworking young people face a future marked by socioeconomic challenges, iMerit is working to change this.
iMerit was built on the premise that training and opportunity can turn anyone into a capable digital professional, regardless of past disadvantages. Our offices are strategically located in centers of underprivileged youth and women to be able to offer job-aligned training and careers in the digital economy. These bright young women and men are our full-time employees who now have access to health insurance, career advancement opportunities, stock options, and continued education. Through their employment, they can provide stable support their families. Our employees are the core and inspiration of iMerit. Learn more about their stories here.
Are you working on innovative tech and need human-labeled training datasets? Get in touch with our Solution Architects today!