Los Gatos, Calif. – October 31, 2023 – iMerit, a leading artificial intelligence (AI) data solutions company, today announced it is partnering with Carnegie Mellon University to present the Online Manufacturing and Warehouse Robotics Forum, a live, free-to-attend virtual roundtable event. The event will take place on November 8, 2023 from 11:00 am – 2:30 pm ET. 
Featuring four online roundtable sessions, the event will cover important topics for manufacturing and warehouse robotics professionals and those building robotics and AI solutions for the manufacturing sector. Session topics include:
The Role AI and Machine Learning in the Shift to More Workforce Robotics

Lessons Learned from Deploying Robotics for Warehouse Automation

Impact of AI Driven Robotics in Manufacturing and Order Fulfillment

Impact of Robotics in Product Distribution and Supply Chain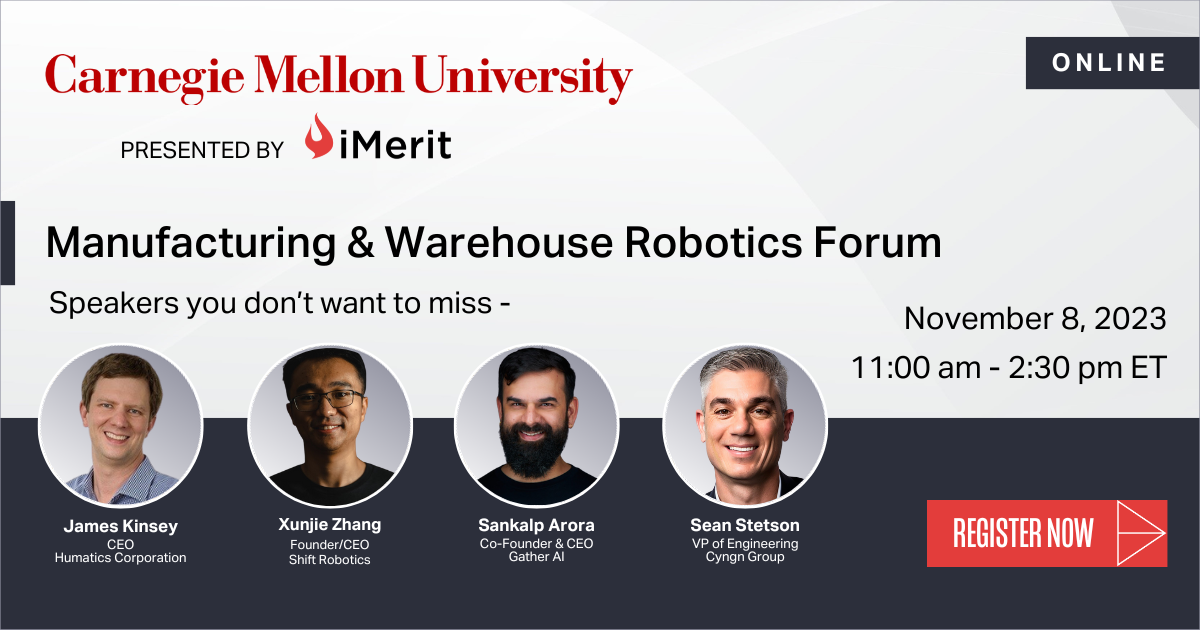 Notable event speakers include executives from companies such as iMerit, Brain Corporation, Cnygen, Gather AI, Humatics, Shift Robotics, and more. Attendees must pre-register to access the event. Registration details can be found here. 
For more information on how iMerit helps AI/ML teams around the world manage data to ensure faster time to market and stronger ROI, please visit www.imerit.net.
About iMerit
iMerit is a leading AI data solutions company providing high-quality data across computer vision, natural language processing, and content services that power machine learning and artificial intelligence applications for large enterprises. iMerit provides end-to-end data labeling technologies and solutions to Fortune 500 companies in a wide array of industries including agricultural AI, autonomous vehicles, commerce, geospatial, government, financial services, medical AI, and technology. iMerit is headquartered in the United States, with large CV and NLP teams in India, US, Bhutan and Europe. iMerit investors are Omidyar Network, Dell.org, Khosla Ventures, and British International Investment, visit imerit.net.