Have you ever found a photo and weren't sure where it was taken? Wondered what certain parts of the world look like? Needed to monitor changes in landscape over time?
These are some big problems that AI and Deep Learning are helping to solve in the geospatial industry. Some believe that Geospatial is the golden thread that links many of the large datasets and is at the heart of making sense of them.
By classifying, tagging, labeling maps and satellite images, companies in the geospatial industry can leverage machine learning to track and identify various interests. Here are some cool companies doing innovative things in Geospatial AI.
Google – Identifying the Geo-location of Any Photograph
Have you ever been scrolling through your thousands of snaps and wondered where it was taken? Or was looking for that photo taken on your memorable trip to Greece, but just can't find it?
Google has developed an application that can tell the exact geo-location of any photo taken on planet earth. The humongous project, titled PlaNet, leverages machine learning technology in combination with convolutional neural networks and mapping technology.
Tobias Weyand and his research team at Google leveraged a gigantic dataset to train the technology which consisted of over 91 Million images along with their Exif location data. Their idea is to input an image into this neural net and get a specific grid location or a set of likely candidates.
Weyand's team used another 34 million images to validate the technology and then fed it 2.3 million geotagged images from Flickr to see whether it could determine the location accurately. The results are encouraging and will help you place images in the near future. To learn more about PlaNet, check out this publication.
Geoblink – Geospatial Business Intelligence
In the fast food industry, finding a new location for your next restaurant can be as simple as going where your competitors are. But it isn't always that easy. Geoblink is an AI-enabled platform that leverages their store portfolio, store surroundings, and sales forecasting to help you make a data-backed decision for your next location or your next geomarketing effort.
The platform pulls from a large database that provides information on socio-demographic data, socioeconomic data, commercial transactions, and traffic (pedestrian and by car) volumes.
Geoblink users can to focus on the options that are viable, ignoring locations that might be unprofitable. In leveraging the location data, retailers can customize their product market fit and create personalized marketing campaigns.
Mapillary – Crowdsourced Photomapping Platform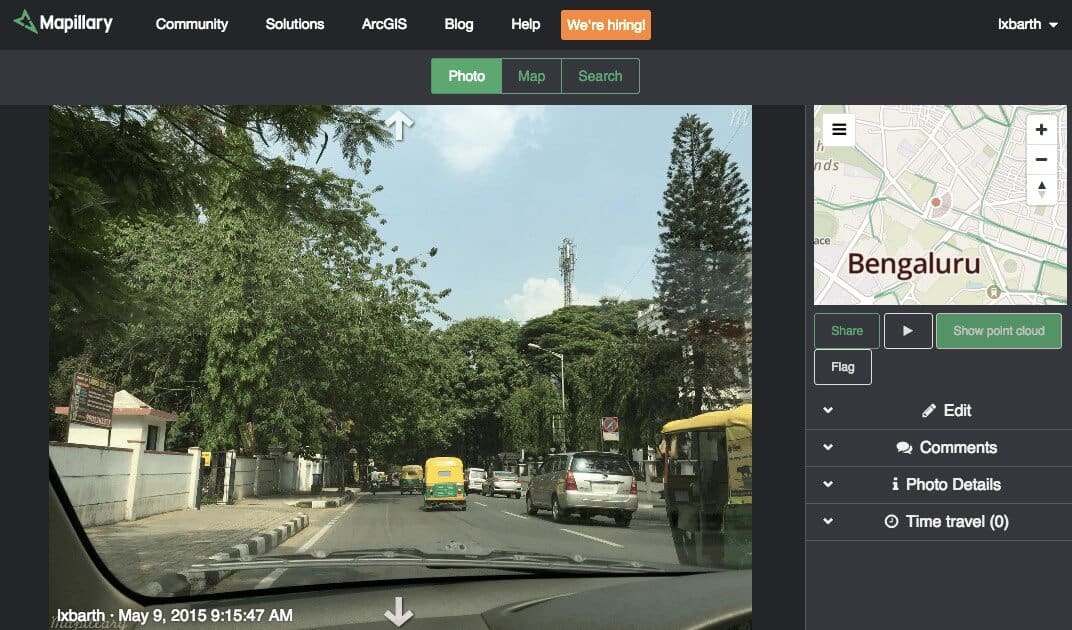 Geospatial technology is helping solve some of the world's biggest problems. Mapillary, a community-based photomapping platform, is transforming the way we plan our cities, develop transport networks, and understand all the hidden parts of the world.
Anyone with internet access can contribute photos to the Mapillary platform or their mobile app with a smartphone or action camera. Their proprietary computer vision software then automatically extracts geographic information, blurs license plates and faces, and detects traffic signs from each photo uploaded. The photos are then meticulously stitched together to create a digital representation of each location.
Mavrx – Next Gen Farming
Mavrx is an aerial imagery tool that provides farmers with the tools to confidently quantify, verify, and improve crop performance. They deliver on-demand, calibrated, multi-spectral 12cm imagery by mounting their technology to a nationwide network of fixed-wing aircraft.
Instead of scouting for issues, farmers can spend time fixing data-driven crop health alerts. They can monitor changes in their fields over time, benchmark field performance over time, and integrate with other farming technology.
The Humans Behind the AI
These geospatial technologies are revolutionizing many industries, but before they become useful to consumers, there is a ton of human hours work that goes into training them. At iMerit, we partner with some of the world's most innovative geospatial companies to help them label images and video to build the training datasets required to train their technology. Our in-house data labeling experts work as an extension of your workforce to build high-volume, quality datasets.
Do you have images that need labeling? Get in touch with us today!