By Anirban Roy Chowdhury, General Manager, Human Resources
iMerit's vision is to create inclusive growth within the technology sector by sourcing, skilling and employing people from underprivileged backgrounds.
Over 80% of our employees (including now an increasing number of team leads and project managers) come from under-resourced backgrounds in India with family incomes of under INR 10,000 (US $140). About 50% are women, unusual for a tech company. Their amazing journeys are just starting to be captured by international publications like The Financial Times and The New York Times.
Trainees enter the company at base income levels of $150-200 per month, a stipend which exceeds a large percentage of family incomes in the Indian towns we operate in. For context, India's Net National Income is $95 per month (Ministry of Statistics and Programme Implementation, average of 2014-2018). They go through several weeks of paid training. This is just the beginning of their story.
Income potential and financial growth distinguish these careers from daily wage or other non-technical jobs. Over five years, our India team's income rises from trainee levels through a range of $300 to almost $800 at the Project Manager Level (2x to 5x). While not comparable with programming salaries, this income growth is promising in the tech enabled data services sector. With 90% retention, we have witnessed these trajectories play out in the hundreds over the years. Over 100 iMeriters have become team leads or managers since they started as inclusive hires, adding leadership skills and quality responsibilities to their pathway. iMeriters are transformed into primary family earners with influence in their communities.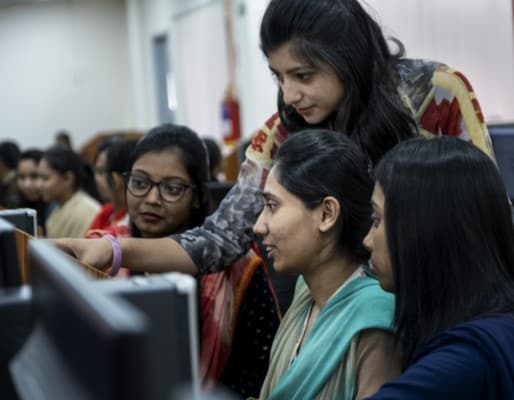 Skill development and career growth are critical. Today the primary activity is data annotation and labeling. Tomorrow, we have to be agile enough to ride the next wave. The Future of Work is not a "what", it's a "how".
iMerit additionally provides healthcare, benefits and allowances. Our full-time model covers medical insurance, 6 months of maternity leave, travel allowance, and paid and medical time off. This ensures family security and shields against drastic events which could interrupt their incomes. It builds confidence in professional careers.
Sustainable income allows them to save for a rainy day (gold, mutual funds); to invest in their homes (sanitation systems, water purification plants); to educate their siblings and continue their own education; to pay it forward (build roads in their villages; teach kids in their communities). Their commitment and community spirit are humbling to see.
Their rapid growth in less developed communities demonstrates that it doesn't matter where you start from, what matters is where you are headed.