Customer: Top AV Technology Company
This company relies on iMerit to generate the maximum value from their data to account for edge scenarios, and make their cars function optimally while getting to market faster.
Customer's Key Business Needs:
Data Generation → How can we optimize AV learning without generating more data?
Edge Scenarios→ How can we improve our AV performance in edge scenarios?
Research Efficiency → Can we increase the quality of our data generation?
Throughout the world, the critical success factor of autonomous vehicles lies in their ability to keep people safe. This company's self-driving delivery vehicle was unevenly interpreting obstacles on the road, leading to unstable performance metrics that were hurting the company's reputation, negatively impacting adoption, and hurting consumer trust.
Company Profile & Product
This technology company develops a self-driving vehicle for local goods transportation, which services have the potential to fundamentally transform local commerce through autonomous delivery and help merchants deliver goods to customers quickly, affordably, and safely.
The driving vehicle receives the desired destination from the operators or external parties (users, service providers) and drives autonomously to that location. The driving robot makes the vehicle available at any requested location to deliver goods. The cabin is designed completely independent from any restrictions of a driver workplace whatsoever.
Challenges
While the autonomous vehicle performed well in most circumstances, it was still performing poorly in very specific and unusual circumstances where the autonomous vehicle lacked data that would teach it how to react. Specifically, the vehicle was performing poorly in the following areas:
Pedestrian classification
Headlight tagging
Prediction of driver behaviour
This company could therefore not guarantee the safety of people who shared the road with their vehicle, resulting in missed market windows, hindered widespread adoption of autonomous vehicles, and higher R&D costs in the form of having to generate more data to continuously teach their autonomous robot.
However, edge events are uniquely challenging when it comes to gathering data. Certain edge scenarios can actually never occur in manually collected data as it is very difficult to replicate unusual circumstances or encounter them while gathering the data. Second, acting out or recreating edge scenarios in the real world to produce training data is difficult, risky, and even illegal in some cases.
The Solution
This company came to iMerit to help guide data generation, annotate data more efficiently, and leverage iMerit's expertise in the areas of edge scenarios. While spending more time generating data might eventually account for all possible edge scenarios, iMerit's proprietary team of experts and annotation professionals are leaders in the field of edge scenarios thanks to their extensive experience and training.
In just three months, iMerit annotated over 50,000 videos and helped inform further data generation to ensure it would fill gaps of the company's autonomous driving intelligence. The vehicle performed demonstrably better across a wide range of performance indicators, and resulted in the delivery vehicle performing better than ever before.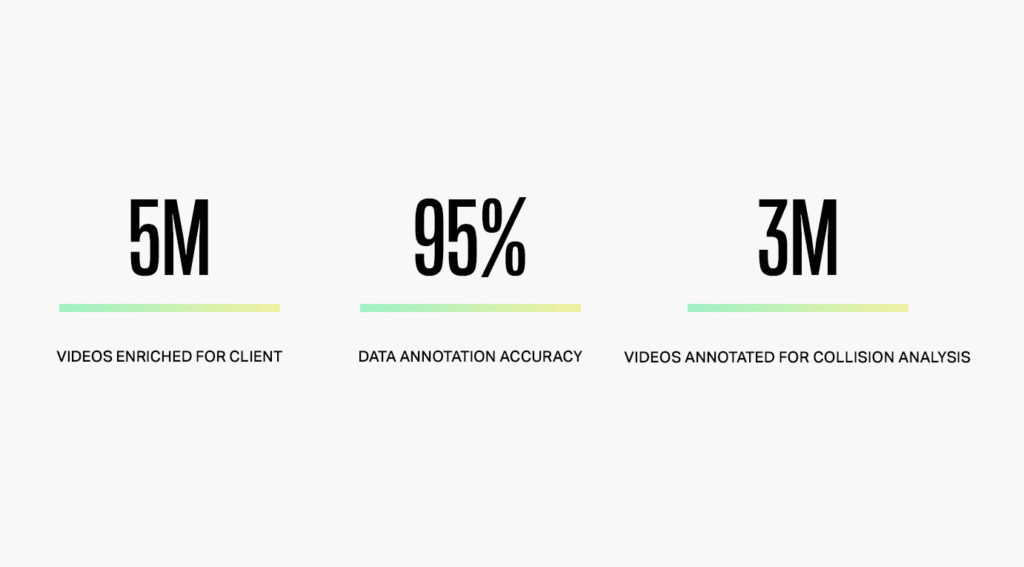 iMerit teams have annotated and trained over 5,000,000 videos for the client. These help the machine to 'see' and understand their environment and function accordingly.
The Results
Thanks to iMerit, this company was able to guarantee the safety of people who shared the roads with their vehicle. The vehicle could now be reliably summoned to locations without putting anyone at risk, and completely revamped the local economy of this region.
Bottom Line Impact
Cost Savings → Instead of generating more data, iMerit extracted the max value from data on hand to account for potential edge scenarios.
Faster Time-To-Market → Due to iMerit's less-is-more data approach, this company was able to skip months/years of data collection, and instead made use of data they already had.
Market Leaders → The performance of these AVs has made this company a leader in their field.
If you are interested in accelerating your self-driving AI algorithm, contact iMerit today